2021 Mazda MX-30 EV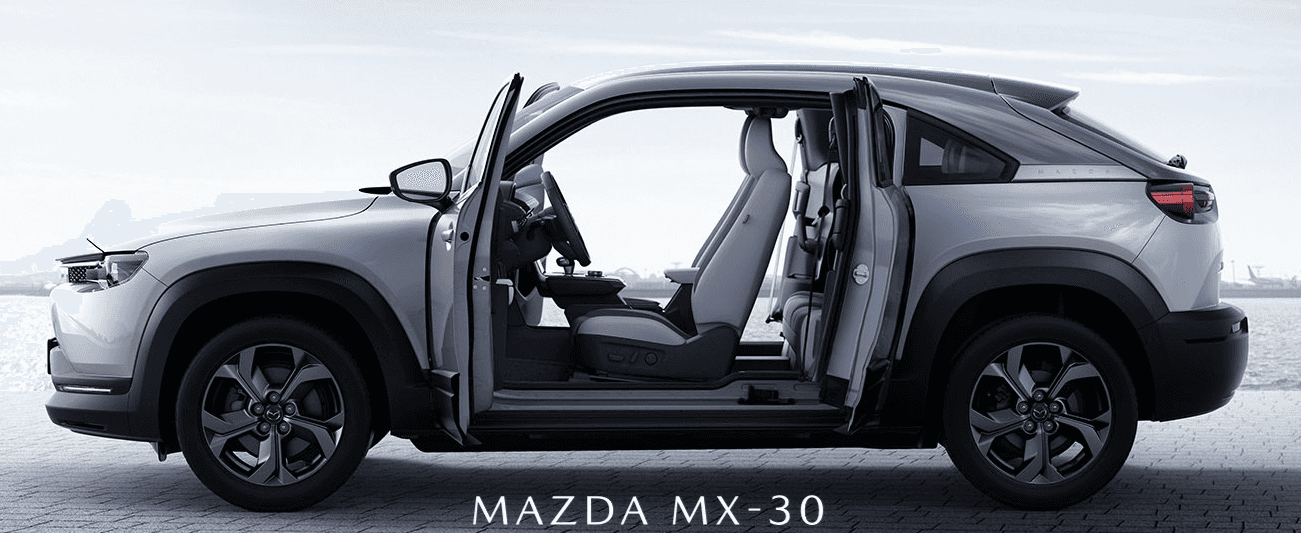 Overview
Mazda is set to introduce an all-electric subcompact crossover, its first alternative-fuel mass-production vehicle. This debut electric vehicle (EV) will be called the Mazda MX-30, and photos show that it's a sleek crossover with a coupe-like design. While many of the details remain under wraps as of this writing, the word is that it should land at dealerships in late 2020 or early 2021.
---
Engine and Performance
The all-new 2021 Mazda MX-30 will be powered by a single electric motor, and chances are it will be offered with front-wheel drive only. While details on its exact output haven't been released, it will surely perform competitively against the best-selling EV crossovers already on the market. The driving range specifics are also yet to be disclosed, but you can expect the vehicle to hold its own against the rivals in this aspect as well.
---
Standard and Available Amenities
As with the other models in the Mazda lineup, the 2021 Mazda MX-30 will come with plenty of standard features that lean toward luxury, with even more upscale features available on higher trims. In other words, this EV will not disappoint. The cabin has been designed with a theme of sustainability, highlighted by breatheable upholstery crafted from recycled plastic bottles. The center console "floats" between the front seats, freeing up plenty of storage space behind a digital touchscreen that passengers will use to adjust the climate controls. The detailed specs regarding overall cargo space are to be revealed, but if the similarly sized Mazda CX-3 is any indication, this debuting Mazda EV should yield plenty of storage for the average shopper. The infotainment system will have an ultra-modern touchscreen display that rises from the top surface of the dashboard rather than being mounted on its vertical surface. Since Mazda's infotainment system has been universally praised, the version in this electric crossover should definitely please buyers – and it will likely come with both Apple CarPlay and Android Auto.
---
Active Safety Features
The Mazda i-Activsense bundle of driver-assist technologies will be included as standard for some of the higher-level trims of the 2021 Mazda MX-30. It will include pre-collision mitigation, lane keep assist, automatic emergency braking with pedestrian detection, lane departure warning, adaptive cruise control, and blind-spot monitoring with rear cross-traffic alert; other advanced crash-mitigation features may be available.